HOURS EXCEPTIONS REPORT
---
DESCRIPTION

The Hours Exceptions report is used after all crew time and employee time has been entered. Once a date and the hours criteria are set, the report will list all active employees who do not meet these requirements. It also finds employees who are active with no time entered and those who are inactive and have time entered.

OPENING SCREEN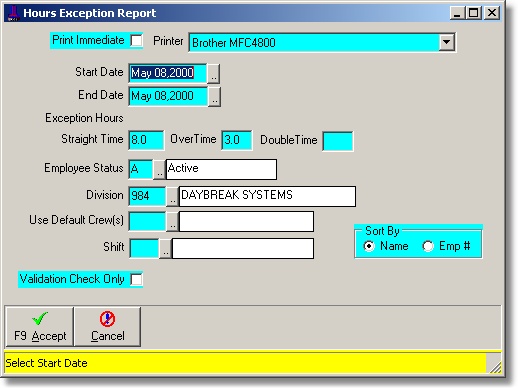 PROCEDURES

The following must be completed:

Start/End Dates - enter or use lookup to select the date to check.

Exception Hours - enter exemption hour criteria (typically 8 hours S/T and 3 hours O/T is selected to be the standard daily hour criteria).

Employee Status - A(ctive), O(n Leave), T(erminated), R(etired with Benefits)

Division - number to identify the division to be selected.

Crew - enter a specific crew if needed. By leaving the field blank, all crews will be scanned.

Sort By - the report may be sorted by name or by employee number.

F9 - to Accept.
---